High Quality Screening, Diagnosis and Educational Assessment
Virginia has experienced a dramatic increase in the number of children diagnosed with ASD in the past decade. Knowing that outcomes are greatly improved with earlier diagnosis and treatment, VCU-ACE works from current evidence to determine best practices to facilitate these critical first steps towards identification and intervention planning. As a special area requiring Commonwealth wide intervention, VCU-ACE engages in research and training efforts to improve the skills and knowledge of professionals to accurately and reliably identify, determine eligibility and assess the educational needs of children and adolescents with ASD. This requires efforts aimed at both the medical and educational fields.
Medical Services: Improve the ability of physicians (pediatricians, family practice specialists, developmental pediatricians, psychologists, neurologists, etc.) to identify the early signs of ASD, screen for and diagnose ASD across all ages using sound clinical models and gold standard tools.
Educational Eligibility: Improve the ability of school psychologists and other educational team members to determine whether a child or adolescent is eligible for special education services under the disability category of autism using sound data and gold standard evaluation tools.
There are three primary goals for this project: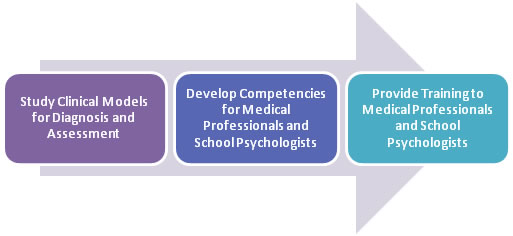 Study Clinical Models for Diagnosis and Assessment
It is our goal to develop clear, consistent guidelines for earlier screening, accurate diagnosis, and thoughtful assessment for intervention planning, which directly result in earlier treatment and better outcomes for our citizens with ASD. In order to move the Commonwealth forward in improving diagnostic services, VCU-ACE has convened a taskforce to study various models for screening and diagnosis. The taskforce is comprised of medical professionals, educational professionals, family members, and individuals with ASD.
Task Force Members
Dr. Pasquale Accardo- Developmental Pediatrician
Dr. Heather Applegate- Psychologist
Maria Beck- Instructional specialist for Richmond Public Schools
Dr. Joann Bodurtha- Genetics/VA LEND
Carol Burke- Early Intervention Specialist
Dr. Tracy Fatzinger- Psychologist
Dr. Tony Gentry- Occupational Therapy
Dr. Donna Gilles- Partnership for People with Disabilities/VA LEND
Cindy Gwinn- Department of Behavioral Health and Developmental Disabilities
Dr. John Harrington- Pediatrician
Tammy Kane- Parent
Dr. Colleen Kraft- Pediatrician
Dr. Donald Lewis- Neurology
Dr. Sean McKenna- Pediatrician
Dr. Donald Oswald- Psychologist
Laurie Pearson-Parent
Dr. Lissa Power-deFur-Speech Therapist
Jennifer Rabung-Parent
Jennifer Sherry-Parent
Dr. Maria Urbano-Psychiatrist
Janet Willis- VA LEND
Dr. Chad Dillard- Physician
Joy Engstrom- VCU-ACE
Dr. Dawn Hendricks- VCU-ACE
Dr. Carol Schall- VCU-ACE
Staci Carr- VCU-ACE
Emily Helmboldt- VCU-ACE
Adam Dreyfus- VCU-ACE
Dr. Paul Wehman- VCU-ACE
Taskforce Activities
The taskforce is charged with the following activities:
Identify models for screening, diagnosis, and educational assessment of ASD
Consider strengths and weaknesses of the various models
Identify needs unmet by models currently operating in Virginia
Identify needs across the Commonwealth regarding screening and diagnosis
Assist VCU-ACE Staff to develop research regarding diagnostic and screening models
Make recommendations regarding screening, diagnostic, and educational assessment models for Virginia that will result in timely and accurate diagnoses and respect the needs of individuals and families
Develop Competencies for Medical Professionals and School Psychologists Regarding Diagnosis, Eligibility, and Assessment
VCU-ACE Staff works with the taskforce to develop competencies for physicians (pediatricians, family practice specialists, developmental pediatricians, psychologists, neurologists, etc.) and school psychologists to outline the knowledge, skills, and abilities practicing professionals need to ensure the early signs of ASD are identified and an accurate and timely assessment is provided. Competencies will be used to help inform clinical judgment for earlier, more accurate screening, diagnosis, and educational assessment and guide training initiatives for professionals across the Commonwealth.
Provide Training to Medical Professionals and School Psychologists
VCU-ACE provides training to this special faction of medical and educational specialists responsible for determining diagnosis and eligibility for services. Training is based on the competencies developed and guarantees increased access to quality diagnostic and educational assessment services.