VCU-ACE Diagnostic and Evaluation Taskforce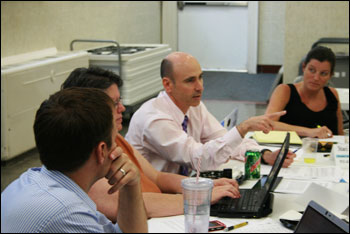 On Wednesday, June 1 the Diagnostic and Evaluation taskforce met to develop strategic plans to further explore the screening, diagnosis, and systems in Virginia. Three subcommittees were established and are working to develop a plan to research and explore the current practices in Virginia in order to make recommendations for future practice in screening and diagnosis and recommendations for systems change. The taskforce is committed to the improvement of screening and diagnosis of ASD in Virginia.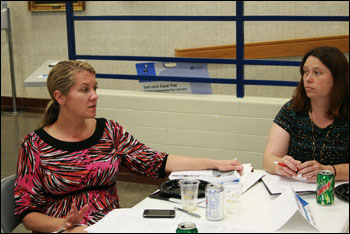 The subcommittees developed work plans that will be carried out over the summer months to answer questions in each area of concern. Following the collection of information and data, the subcommittee will produce a written summary that will be included in a white paper to the Virginia Department of Education and Department of Behavioral Health and Developmental Services (DBHDS).
Task Force Members
Dr. Pasquale Accardo- Developmental Pediatrician
Dr. Heather Applegate- Psychologist
Maria Beck- Instructional specialist for Richmond Public Schools
Dr. Joann Bodurtha- Genetics/VA LEND
Carol Burke- Early Intervention Specialist
Dr. Tracy Fatzinger- Psychologist
Dr. Tony Gentry- Occupational Therapy
Dr. Donna Gilles- Partnership for People with Disabilities/VA LEND
Cindy Gwinn- Department of Behavioral Health and Developmental Disabilities
Dr. John Harrington- Pediatrician
Tammy Kane- Parent
Dr. Colleen Kraft- Pediatrician
Dr. Donald Lewis- Neurology
Dr. Sean McKenna- Pediatrician
Dr. Donald Oswald- Psychologist
Laurie Pearson-Parent
Dr. Lissa Power-deFur-Speech Therapist
Jennifer Rabung-Parent
Jennifer Sherry-Parent
Dr. Maria Urbano-Psychiatrist
Janet Willis- VA LEND
Dr. Chad Dillard- Physician
Joy Engstrom- VCU ACE
Dr. Dawn Hendricks- VCU ACE
Dr. Carol Schall- VCU ACE
Staci Carr- VCU ACE
Emily Helmboldt- VCU ACE
Adam Dreyfus- VCU ACE
Dr. Paul Wehman- VCU ACE