Regional Communities of Learning
Regions will receive technical assistance through the development and facilitation of Communities of Learning in Autism (CoLAs). Communities of Learning provide communities the opportunity to share information and experiences. This allows members to learn from each other, and have an opportunity to develop personally and professionally.
What happens in a CoLA?
Members share a common interest in the improvement of service delivery and use of evidence-based practice for students with ASD.
Members create a strong community that fosters trust and encourages collaboration and sharing.
Members develop a core of knowledge through skill development, problem solving, information and resource acquisition, and skill integration using both collaborative and self-directed learning activities.
VCU-ACE facilitates Communities of Learning in Autism within each Superintendent's Region. A VCU-ACE Technical Assistance Associate works with regional representatives from the Virginia Department of Education (VDOE) TTAC's and school division based leaders within each region to build such learning communities. Communities of Learning are tailored to the needs of the region based upon the areas targeted for growth by the members of the group. The members of the Communities of Learning are comprised of the region's leaders in service delivery for students with autism. This includes autism specialists, instructional specialists, master teachers and individuals in administrative or quasi-administrative roles who provide in-division consultation and support to teachers with caseloads and/or classrooms.
Find Your Region
Option 1: Click on the portion of the map below that contains your city or county to receive information about your VDOE region.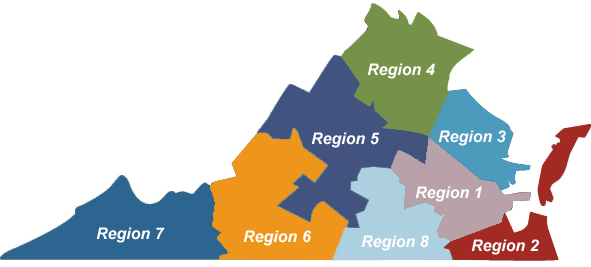 Option 2: Choose your city or county from the following dropdown list. Then click the link that appears for information about your region.