Online Training Activities
Online learning offers new and exciting benefits. This type of training provides an increased number of learning choices as well as flexibility for time and location. In addition, online learning allows for: differences in learning style, reinforcement in the classroom or job site, and both individual and group work.
Tips for Online Learners:
Online learners need certain beliefs, understandings, and skills in order to be successful:
Motivation to be a self-directed learner
Basic knowledge of computers, as well as email and internet access
Interest in professional development
Communication skills (in person, in writing, and online)
Ability to advocate for personal learning needs
Adaptability with group and individual learning strategies
ACE online training activities are free to Virginia residents. All activities listed on this page are web-based and you must have the technical requirements to participate. You will need RealPlayer or RealAlternative to view the video clips and hear the audio clips. Download free RealAlternative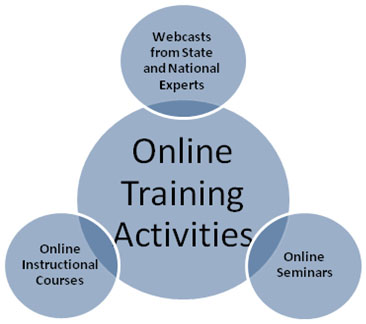 Types of VCU-ACE Online Training Activities
Participate in live presentations from state and national experts in the field of autism. During each webcast, a 45 - 60 minute presentation will be provided on an important topic followed by a 30 minute question and answer session with the presenter, or a web board will be available for questions, giving participants the opportunity to ask the expert! Some upcoming webcasts are eligible for continuing education credits towards recertification for Behavior Analysts and Assistant Behavior Analysts. Please click on the link above for more information.
View previously recorded presentations from state and national experts in the field of autism. If you missed a live webcast, you can view it anytime. Some archived webcasts are eligible for continuing education credits towards recertification for Behavior Analysts and Assistant Behavior Analysts. Please click on the link above for more information.
This section of our site contains a wide variety of online courses, including both facilitated and self-paced courses. These online courses provide an intensive focus on ASD and skills and knowledge needed to effectively serve this group. A certificate of completion will be issued to all participants who complete all course assignments and pass with an acceptable grade.
Online seminars are web based presentations offering participants opportunities to acquire skills and knowledge on various topics related to ASD. Online seminars are available for your viewing anytime. Each seminar lasts 30-60 minutes. These seminars are appropriate for anyone who wants to learn more about ASD and how to provide appropriate supports. Extension activities are included for most seminars. These activities can be completed afterwards to apply and practice knowledge and skills learned during the seminar in everyday situations. Extension activities also provide the opportunity to review content and reflect on new information. The activities can be done by an individual or in a group as part of professional development.
Information on Certificates, CEUs, and Licensure
Certificates of Completion
A certificate of completion is available for participants who complete various online training activities. Participants must fulfill requirements to receive the certificate.
Continuing Education Units (CEUs)
Continuing Education Units (CEUs) are available to participants for completion of the online courses. The Continuing Education Unit is a nationally recognized method of quantifying the time spent engaging in professional development and training activities. Ten hours of instruction = 1.0 CEU. One hour of instruction = 0.1 CEU. To purchase a CEU, please contact Teri Blankenship at tcblanke@vcu.edu.
Recertification / Licensure
For teachers seeking recertification points: Points for educators working towards licensure renewal (recertification) may be awarded for completion of 5 or more webcasts. VDOE provides the following requirements regarding professional development activities:
Point value: one point per clock/contact hour; must be a minimum of five hours per activity.
Any teacher who wants to use these items as a professional development activity for recertification needs prior approval of the school district. The school district will be responsible for designating the actual number of points that a teacher can earn for participating in the webcast.
For Behavior Analysts or Assistant Behavior Analysts seeking Type II credits: Continuing education (CE) credits for individuals working towards recertification may be awarded 1.0 Type II CE for each eligible webcast.
1 hour webcast = 1.0 Type II CE credit
Please note: Recertification requires that you obtain necessary continuing education for your certification. The amount of continuing education credits required and acceptable types of continuing education credits are set forth by the Behavior Analyst Certification Board, Inc. For more information and current requirements please visit their website: http://www.bacb.com/index.php?page=100365.
Contact Taryn Goodwin, Approved Continuing Education Coordinator, at 804-827-0756 or tmgoodwin@vcu.edu.