April 6, 2017
Entering High School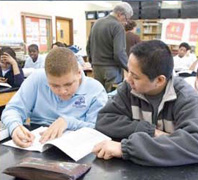 As we continue through the Roadmap to Independence, our next stop is high school. Because high school is such a complex topic, this month we'll discuss the transition to high school. Next month we'll tackle success in high school and the preparation for life beyond graduation!
The transition from middle school to high school can be a challenging process for many students. Along each step in the Roadmap, students are faced with more complex environments, increased transitions, more academic demands, and significantly more complicated social situations. And of course, our expectations for student independence increase dramatically. All of this true for students entering high school and then some! Students in high school must learn to independently navigate bigger campuses with crowded hallways, manage increased homework, and learn subtle social rules. They have to use more complex communication skills in interacting with peers and advocating for themselves. In addition to all of this, high school age students are also learning to deal with the challenges of puberty and cope with ever changing social, emotional, and physical changes. It's no wonder that parents and students have many concerns about this transition!
However, high school is also time for tremendous growth and development. It offers students a variety of experiences like discovering classes and extracurricular activities that explore strengths and interests, introducing a wider range of peers who share those commonalities! Students in high school have the chance to work toward industry credentials or state licenses that help prepare students for the technical job market upon graduation, or they can explore rigorous academic work that helps prepare them for college. Some students may not be planning for a standard diploma and may be working more towards expanding functional skills. While high school aged students with ASD may have different goals and abilities, each of them will experience a time of increased choices, greater flexibility, and a chance to discover new abilities and talents!
Developing 'self' skills!!!
Students transitioning to high school will need many different skills for success, but there are certain fundamental skills that every teenager and young adult will need. These fundamental skills include a lot of 'self' skills such as self-awareness, self-determination, and self-advocacy!
Self-awareness
Self-awareness is really having a sense of who we are as individuals. In other words, self-awareness is understanding what makes you, well…YOU. This means knowing our own personality, understanding what our own physical and psychological needs are, being able to consider our own abilities, strengths, and interests. Being self-aware helps us understand what works in our lives and what doesn't! This skill also helps us figure out our own emotions and why we feel the way we feel when we feel it! Self-awareness skills help us in making the right decisions for ourselves but also helps with managing stress, play into our own self-esteem, and assists in understanding our motivations. Ultimately, these skills help us become more empowered! While the importance of this skill may seem obvious, many people often forget that being more self-aware also helps us understand where we are today, where we want to be 10 years from now, and how we're going to get there!
Self-determination
Students should be involved in their IEP meetings and be encouraged to attend, comment, and actively participate in making decisions about transition planning! This means students will need the ability to communicate their wants and needs but also their hopes and dreams. Students should also be able to participate in setting goals in reaching those dreams, as well as being able to understand what motivates them to succeed! Ultimately, self-determination means we each have control over the direction of own lives and destinies!
Self-advocacy
Part of self-determination includes self-advocacy skills like being able to make our own decisions, speak up for ourselves, and assert our rights. Many of us take these skills for granted. Many individuals with ASD do not make their own decisions, are unable to speak up for themselves, and may not be aware of their rights and responsibilities. Self-advocacy skills are important for everyone, but especially individuals with ASD! This means an individual with ASD will need the required skills to communicate their choices, wants, and needs, but also be able to negotiate with others. Self-advocacy also includes finding resources, knowing who to go to for help, and appropriately disclosing information about a disability. These skills are not taught in a single day or week, but rather, are learned over a lifetime! Self-advocacy skills should begin early and expand over time by giving students opportunities to make choices, refuse, and make decisions for themselves. You can imagine just how important these skills are for high school students and for life beyond school!
One of the greatest resources in Virginia for these 'self' skills is the I'm Determined project. I'm Determined focuses on, "providing direct instruction, models, and opportunities to practice skills associated with self-determined behavior. This project facilitates youth, especially those with disabilities to undertake a measure of control in their lives, helping to set and steer the course rather than remaining the silent passenger." Visit their website today and explore resources for developing these skills: www.imdetermined.org
But that's not all!
There are many other skills a student entering high school will need for success! This includes a wide range of abilities including problems solving, resiliency, time management, navigating different environments, and social communication skills that become more complex and subtle than those learned at younger ages. Every student with ASD will need to these skills in order to overcome barriers, face challenges head on, and learn from difficult experiences. Students also need to be able to manage their day, activities, and interests in order to succeed in academics and everyday life. And with larger high school campuses and the community, students will need to learn navigation skills. That sounds simple, but does your student know how to independently get from point A to point B in his or her own school or in their own community? If not, now is the time to start working on these vital skills! And finally, as students enter high school, the social demands increase dramatically. Sometimes social rules are obvious, and other times social rules are subtle, seemingly without rhyme or reason. Students with ASD need to understand these social rules and trends, but also how to handle more complex social situations and relationships. This can include conversational skills including talking on the phone, texting, navigating social media, personal safety, knowing about clothes, makeup, trends, and even understanding sexuality.
Want to learn more?
To understand more about self-determination and other skills, check out these webcasts from VCU-ACE!
Looking Towards the Future: Using Person-Centered Planning Tools from Pre-K through Adulthood by Teresa Cogar, Training Associate at VCU-ACE. This webcast discusses the importance of using person-centered planning tools for individuals with ASD pre-k through adulthood. The importance of developing skills, abilities knowledge and confidence in one's self and developing through the years are emphasized. How to adapt tools to meet the various communication needs of individuals and their support networks is also discussed. To view this webcast, click here: https://vcuautismcenter.org/te/webcasts/details.cfm?webcastID=348
Progressing Through Transition by Justin George, a young man with ASD. In his own words, Justin discusses how strategies, people and placements helped him move from middle school, high school and now to college. Strategies on how he moved forward, became more self-determined, and has used his interests and love of amateur radio and weather reporting to continue to become more successful as he progresses through his transitions in life are also discussed. To view this webcast, click here: https://vcuautismcenter.org/te/webcasts/details.cfm?webcastID=302
My Journey to Self-Determination by Tori Saylor, an individual with ASD. In this webcast, Tori illustrates her struggles, triumphs, and tools used to survive each day. This allows for an opportunity to walk a mile in her shoes as she journeys through life from childhood to adulthood. To view this webcast, click here: https://vcuautismcenter.org/te/webcasts/details.cfm?webcastID=268
Achieving the Best Quality of Life Possible: Preparing for the Future with Dr. Staci Carr, Ph.D. This presentation examines the influences of degree of disability, social and communication ability, academic success, employment, and independence and autonomy on quality of life in young adults with autism and what we can do to make a difference in these outcomes. To view this webcast, click here: https://vcuautismcenter.org/te/webcasts/details.cfm?webcastID=346
Don't forget!
This month's webcast on April 11th is with Winnie Dunn, Ph.D., OTR, FAOTA. Dr. Dunn will present Sensory Processing: An Integral Part of Classroom Planning and Activities. In this session we will explore the key features of sensory patterns; then we will discuss how you might notice behaviors that indicate students' and teachers' preferences in a classroom culture. We will also discover the sensory characteristics of classrooms and activities to begin to appreciate the importance of matching strategies with sensory patterns within the school routines for all students.
Stay connected with us throughout the month by following us on Facebook!